5 August 2012 Wedding Photobooks      We offer a photobook service which can be purchased at any point after your wedding.  If you would like a price list please fill out our "Contact" form with an email address and we will send you a copy.  If you would like to have a consultation meeting where we can show you product swatches and discuss your requirements please let us know and we will arrange a time to meet.  Below is a link to a preview of one of our photobooks, please take a look:
http://previews.onlineprogallery.com.au/gallery?cpid=786521&auth=4f30dbd7ceda39.89873814
1 August 2012  Rob's Trip to Melbourne To "Test Drive" The Leica S2 Camera   Rob Dose our Director of Photography was flown to Melbourne earlier this year on a trip of a lifetime as a guest of German camera maker Leica to try out their flagship medium format camera ahead of a purchase.  He was treated to an all expenses paid luxury weekend at "The Crown" Melbourne, where he was 'wined and dined' (we are just a bit jealous).  Rob, along with a group of other top photographers from around the world, went on an aerial shooting session (see the footage in the video) and had some fun when they had the opportunity to do some BMW driver training at the race track on Phillip Island.  Check out the video of Rob's amazing trip below:
9 June 2012 Video/Photo shoot with The Wicked Lady Olivia and La Belle by Claire  We had the previlege of being asked to be part of a photo shoot and "dress up" session with London's costumier and burlesque performer  "The Wicked Lady" Olivia and her niece local jewellery and hair accessory designer Claire La Belle.
The Wicked Lady Olivia was in Perth visiting Claire who invited her to be part of the Perth Burlesque Festival in May.  It was a really fun shoot where Olivia showed off her exquisite Marie Antoinette inspired costume.   Olivia was also joined by gorgeous little Alisha who wore a "mini" version of her "Marie A" costume, complete with her own hat made by the talented Claire La Belle.    Claire also modelled a leopard print jacket made by Olivia with her own jewellery and a stunning feathered hat, collaboratively designed by Olivia and Claire.
Later in the day The Wicked Lady dressed in her stunning "Peacock" costume which was true to her gothic glamour style!
Thanks so much to "The Wicked Lady" and Claire La Belle for inviting us along for the ride, we had the best day! xo
Below is the video we filmed on the day, we hope you enjoy it!
Photography by: Leanne Clements of Visual Images      Video: Stellar Visions
5 June 2012  Belvoir Homestead Wedding Open Day  We will be exhibiting this Sunday at the Belvoir Wedding Open Day from 11am – 4pm. If you are in the early stages of planning your wedding and have not yet booked your wedding video production please come down to the Swan Valley and say hi to us at our display where we will showing off some of our wedding video work.  You can also enquire with us about our photography services with Rob Dose on the day.  Hope to see you there!  Below is a video we shot of the 2011 Belvoir Open Day, we hope you enjoy watching!
21 May 2012  We are excited to be part of the next Kiss The Bride Magazine promotion in association with Organic Weddings and Minx Cosmetics!  You and four friends could win your very own fashion shoot to be featured in the next edition of Kiss The Bride Magazine.  See promotion below (entries close 20 June 2012):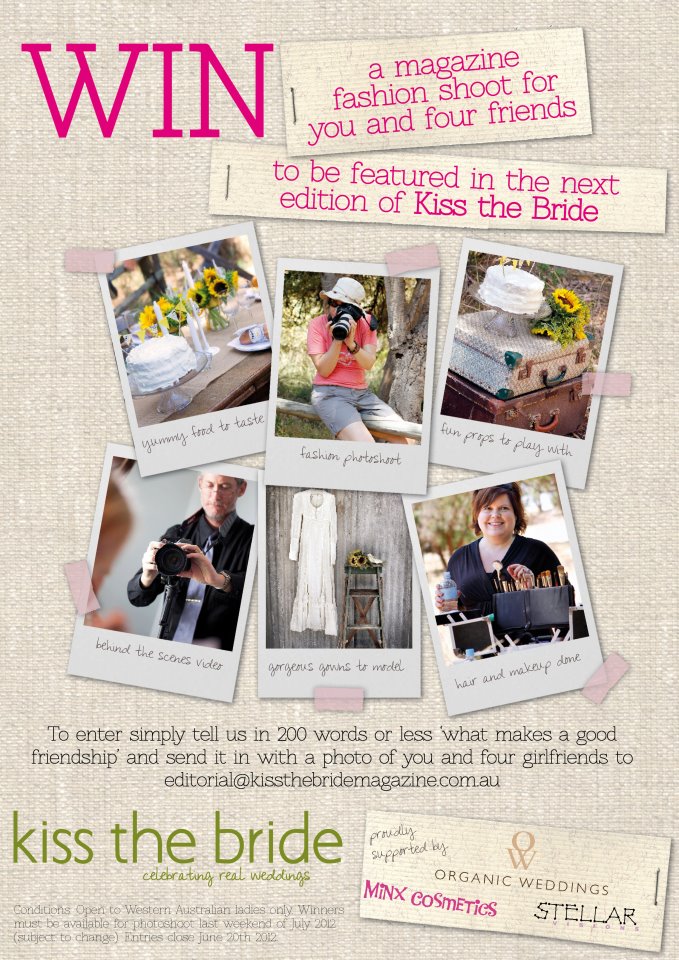 20 May 2012  We had a fantastic day at the Tulle Events Wedding Expo at Arena Joondalup.  We met with many lovely couples and their guests, as well as many familiar and new suppliers.  The overall feel of the day was very relaxed and leisurely as attendees strolled around the venue enjoying the many beautiful displays.  The Arena Sports Bar offered free wine tastings with finger foods and snacks for purchase.  If you missed out this year come along next year for a truly enjoyable day.  Thanks so much to Gillian, Shari and Sophie of Tulle Events for organising such a wonderful event!
Suppliers included:  Tulle Events, Legends Bridal House, Sweet Lila, Bella Weddings, Pure Romance, Pink Diamond Invitations, Tip Top Sound and Lighting, Purple Swans, Stellar Visions Photography & Video, Elena Serra Bridal Accessories, Julie Chesson – Celebrant, Donna Maria Make Up & Beauty, It Works Independent Distributor, Exotic Hair Extensions, Carol Darby Photography, The Bra Bar, Peaches Accessories, Jenny Windsor – Marriage Celebrant, Carramar Florist, Dream Day Productions, Flaunt It Designs, Forget Me Not Flowers, Mojo Fitness, Wanneroo Botanic Golf, Bali Harmony, Photobooth Rentals WA, Sweet Petits, Arbonne Skincare, Tracey Weston – Celebrant, Jewel Designs, Entyce Entertainment, Images by Rochelle, Jumbos Party Hire, Regal Limousines and Perth Tram Company
We shot a short video of the day. We hope you watch and enjoy it!
17 May 2012     Your Wedding Video
While photographs capture the glamour of a wedding, video captures the feeling – the emotion, laughter, excitement and fun of the day!  We really encourage our clients to put some thought into what they want in a wedding video. We ask that they invest a bit of time and thought into the type of shots they would like to do, or if they have a theme in mind.
We are very passionate about making beautiful wedding videos that capture the individuality of each couple.  Your wedding video will become a family heirloom that should be treasured and watched over and over again.
It should be proudly shared with family and friends as you reminisce about the day.
15 May 2012    Your Pre-wedding Shoot………………Get Inspired!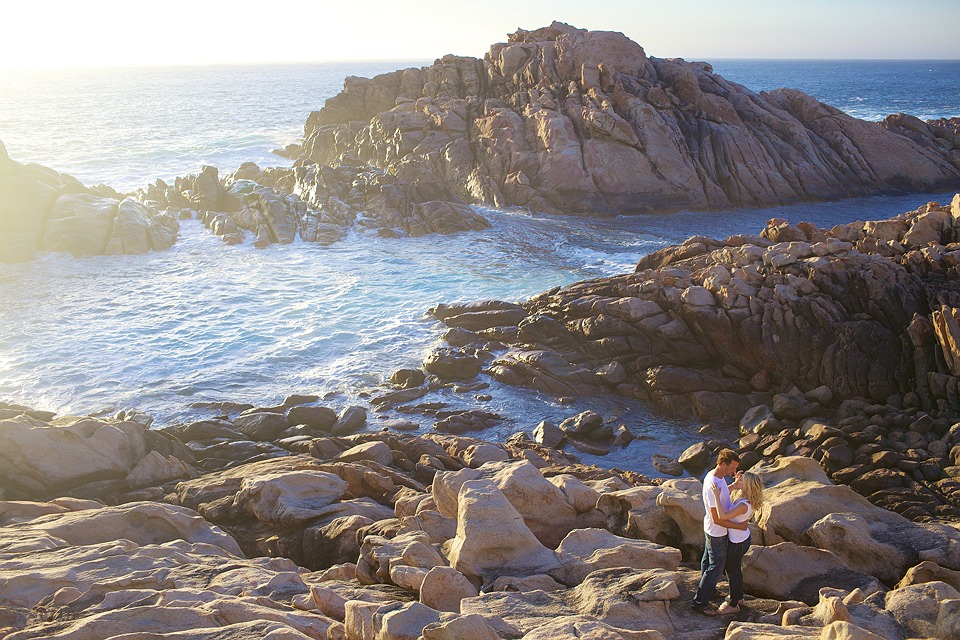 A pre-wedding photo or video shoot is worth doing for three big reasons:
#1: You get used to being in front of the camera.
There will be enough nerves on the day with vows and speeches on your mind, so at least you'll be confident, having seen some lovely shots already.  It is also an excellent way for you and your photographer/video producer to get a good vibe going.  You and your fiancé will both feel more relaxed on your actual wedding day as you will have become familiar with what is involved in a photo/video shoot and it also helps your photographer and/or cinematographer to get to know what you respond to, your best side and how to get the best shots out of you.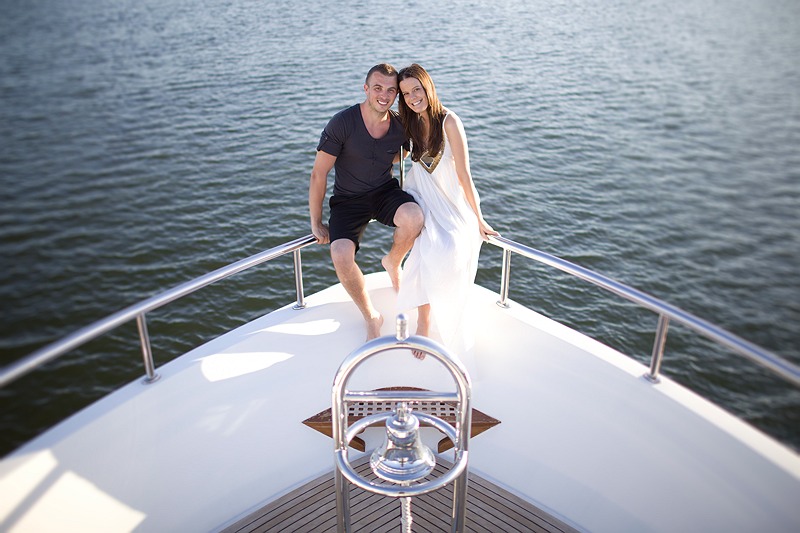 #2: You may be planning to forego a location that is just not practical on the wedding day. A pre-wedding shoot could be taken at that location.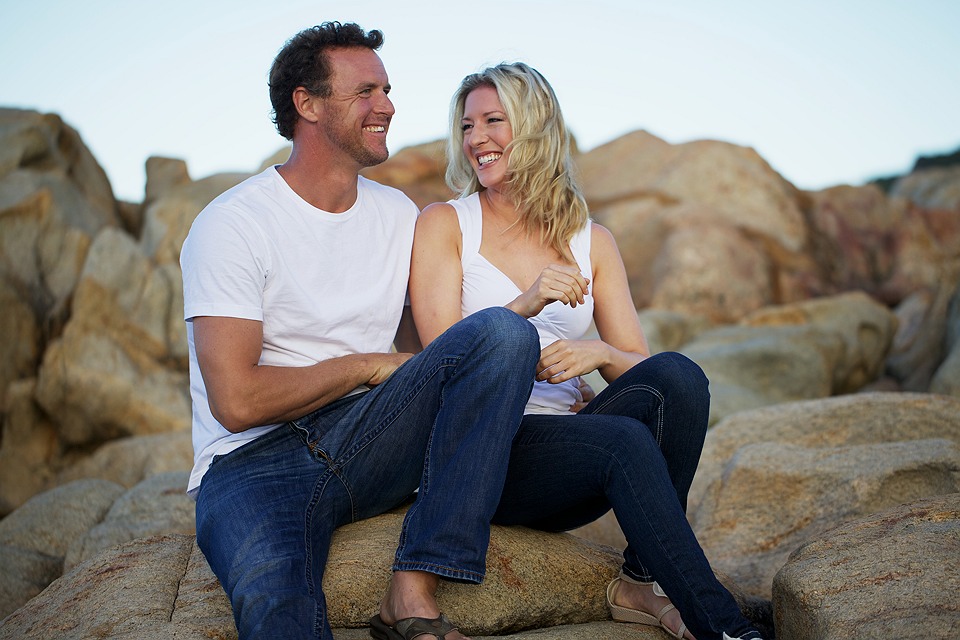 #3: If your guests get to see your wonderful shots beforehand, they are less likely to shy away from the camera, happy in the knowledge that they will be represented well in your family heirloom.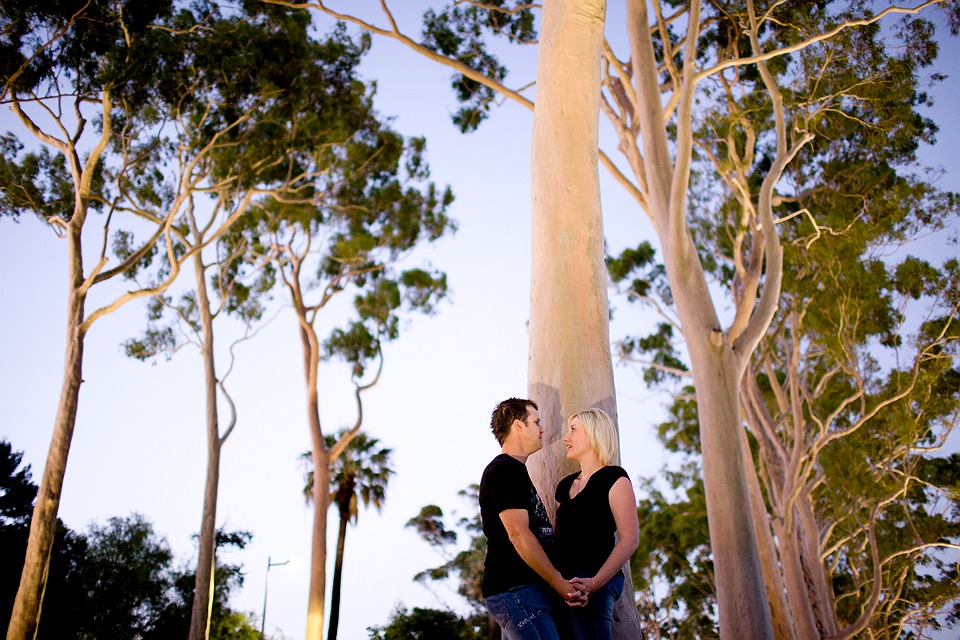 If you are considering a video pre-wedding shoot, it is a good idea to inject some personality into it. Make it a short film that you always wanted to do. It can really be lots of fun, and inspiration is free!  Here are a few of our pre-wedding shoots, we hope you enjoy watching!
11 May 2012     Graveyard Shift
We had some fun shooting this promotional shoot for Exclusive Brides Magazine and Chein Noir Dezines last year at Fremantle Cemetery.
Suppliers:   Chein Noir Dezines  Exclusive Brides Magazine  La Belle by Claire  Cindy Mather Makeup Artistry  Hair by Jody Fiannaca (contact via Cindy Mather)  Photography by Rob Dose  Video Production by Stellar Visions                  Models: Jess and Lauren
7 May 2012  We will be exhibiting at this expo in a couple of weeks, details below.  Please come and have a chat about your photography or video production requirements.  We will have videos and wedding albums on display for viewing and we would love you to come and say hello, hope to see you there!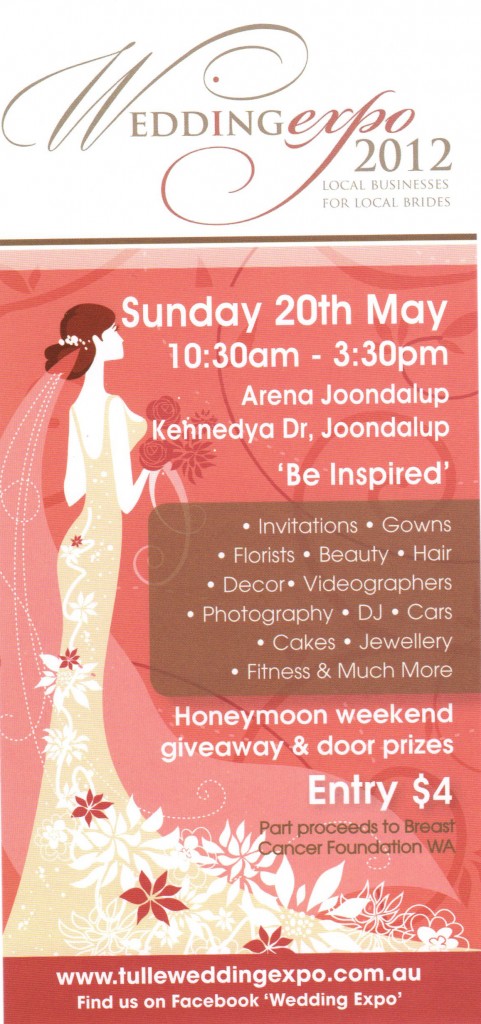 4 May 2012  This week we had the opportunity of doing another shoot with Belly Dance Bombshells www.bellydancebombshells.com.au who were the entertainment at one of our 2011 weddings.  Here is the latest video featuring the lovely Jane, enjoy!
3 May 2012    We are just a little excited – the video we filmed for WASP Hair Australia has reached over 700,000 hits!  To view our WASP Hair Australia '2 minute hairstyle' video click on the "Corporate" tab.
Welcome to our new blog page!  This is where we will share Stellar Visions news, videos, photos and any other fun and interesting stuff we can come up with! Stay tuned….